When it comes to Ramaphosa, he has now run out of excuses when it comes to the issue of loadshedding in the country. South Africans are having a hard time with all these never ending loadshedding. The president first said that there is nothing that he can do about the tariff increase that Eskom was granted by Nersa. He said that his hands are tied and people should just brace themselves.
But upon seeing that the whole country is against this increase and they are planning to march to Eskom and some to Union Building, the president has made a around. Now his hands are no longer tied after he managed to talk to Eskom so that they do not implement the tariff increase they got from Nersa.
Now he comes up with another story as to why South Africans will remain in the dark. Ramaphosa is saying that there is no enough money to take South Africa out of loadshedding. The excuses never end. One can just wonder what is happening at Eskom. Just a few months back they received billions from the US and it was specifically for Eskom. But now it is said that there is no enough money. Loashedding has been here for a long time and it is only now that Ramaphosa sees that the problem of the loadshedding is with shortage of funds. It means that all along these meeting he has been having about Eskom has just been a waste of time.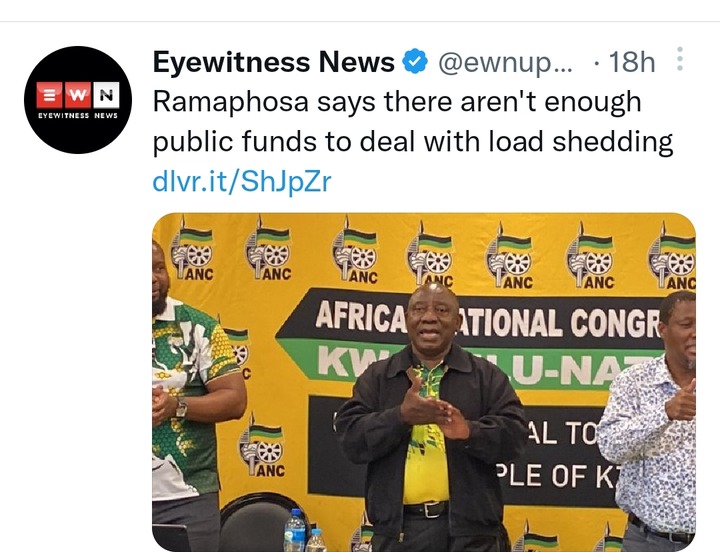 There is so much money that has been looted in the country and Ramaphosa can not come out now and say there is no money. Money has been recovered and it can be used. He need to find that money and solve this problem. He can even use the billion dollars stashed in his sofa. Put the money to good use.
Ramaphosa says there aren't enough public funds to deal with load shedding https://t.co/HryUteinyj pic.twitter.com/GHTwgoIBEh

— Eyewitness News (@ewnupdates) January 23, 2023
Content created and supplied by: ApexA (via Opera
News )