President Cyril Ramaphosa has uncovered that level six blackouts have irritated individuals and constrained them to riot a week ago.
The ANC pioneer tends to the ANC Kwa-Zulu Natal Commonplace Chief Advisory group in Pietermaritzburg. He said that the issue of unsound power is something that they need to promptly address.
Ramaphosa contends that a blend of issues have prompted the power outage in South Africa. A power organizations say it halted because of absence of support.
"The 6th stage is something that annoyed and frustrated our kin, yet that's what I grasp. He shouldn't have arrived at the level and the point he came to," said Cyril Ramaphosa.
The ANC pioneer said that they are currently attempting to decrease the issue through different intercessions. Ramaphosa's remarks come as resistance groups demand the ANC government has no arrangement to end the financial emergency that is attacking the economy.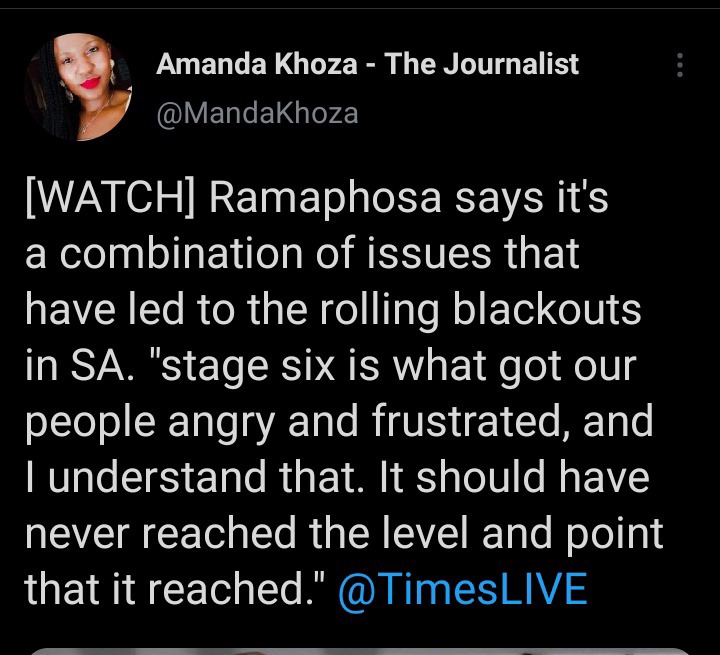 Previous Eskom pioneer Matshela Koko, while answering Ramaphosa's explanation that the public authority has plans to tackle the power emergency, said these are lies. He said: "When you begin accepting your own untruths, you become hazardous to yourself. Matshela Koko adds that when he was in power he was blamed for utilizing diesel to get the fire going. He contemplates whether this is valid, for what reason doesn't Eskom do likewise and turn on the power.
"Something I was condemned for was that I consumed diesel to keep the fire consuming. It's a stunt. The point is to take over Eskom, destroy it so they can assemble free sustainable power makers. In the event that Koko consumes diesel to keep the lights on, Andre De Ruyter should do likewise," he said.
Source:https://twitter.com/MandaKhoza/status/1617286215656423427?t=cWWrid2O1RCnqC_Clp_hlg&s=19
Content created and supplied by: Specially_Edited (via Opera
News )